Fluke Rigs - Spro Bucktail Jig Rig

Product Description
SPRO Prime Bucktail Jig Rigs
These rigs are hand tied by our staff at Peace Token. They are made with high quality materials, and they are put through a rigorous inspection process to ensure quality control. Tie one on and happy fishing!
These rigs are tied according to the following format: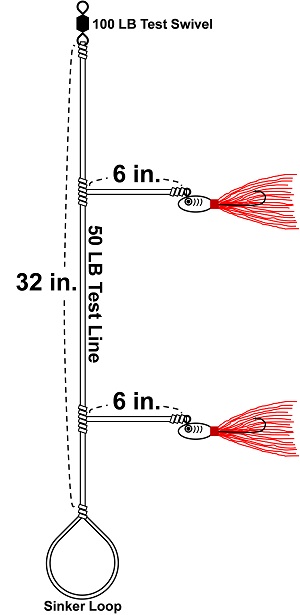 ** Both jigs are 3/8 oz. SPRO Prime bucktail jigs, available in a variety of colors and combinations.
Product Reviews
Fluke Rig - Double White Mudkicker Bucktail Rig

Posted by Don Wetzel on Feb 26th 2019

Love these rigs!! Both 3/8 oz bucktails are tied at perfect heights, both top and bottom catch equally well. The Spro mudkicker jigs are getting extremely hard to find, they work well for both Big Fluke and Seabass. Perfect hook size, plus super sharp and strong.

You can't go wrong with the double spro rig from Peace Token!!!!!

Posted by Ross Goldstein on Sep 11th 2017

This is my fail safe, go to rig for many years. I like how it mimics to little baitfish swimming along. Fluke can't resist it. Caught nice sea bass on it too. I usually put gulp on the top one and spearing and fluke belly in bottom alto. Works every time!!!!!
Customers also viewed